SEO refers to search engine optimization and is the backbone of any blogging, e-commerce, or portfolio website. You can only get organic traffic with SEO. WordPress SEO plugins help you achieve your website's organic traffic goal. Generally, it isn't easy to manually fulfill all the requirements of SEO on websites. WordPress SEO plugins are really useful tools for completing SEO tasks. They provide a simple and eye-catching user interface to fill in all the necessary details on the website, like focus keywords, schema, and meta description. 
Every website needs to be optimized with white hat SEO to gain organic traffic from Google. Organic traffic is not as easy to gain as it looks. Users adopt numerous SEO strategies to accomplish this task like title description, meta description, site map, image optimization, and website speed.  All these tasks are not easy to complete but the user gets all the SEO features in one place with the help of WordPress SEO plugins. The user does not need to go manually to the different areas of the website to fill in the SEO details. 
WordPress SEO plugins guide users to optimize their websites for Google and their target audience. These plugins assist in completing the onsite SEO task. For example, the user can go to the theme editor to add the meta description. WordPress SEO plugins take responsibility and fill the meta description without going to the theme editor. It's so cool and simple. 
Thousands of website owners use numerous WordPress SEO plugins to keep their websites visible to Google and visitors. In this regard, we bring the best SEO plugins that help you to get organic traffic for your website. 
Here are the Top 10 WordPress SEO plugins
(Free/Paid version $59)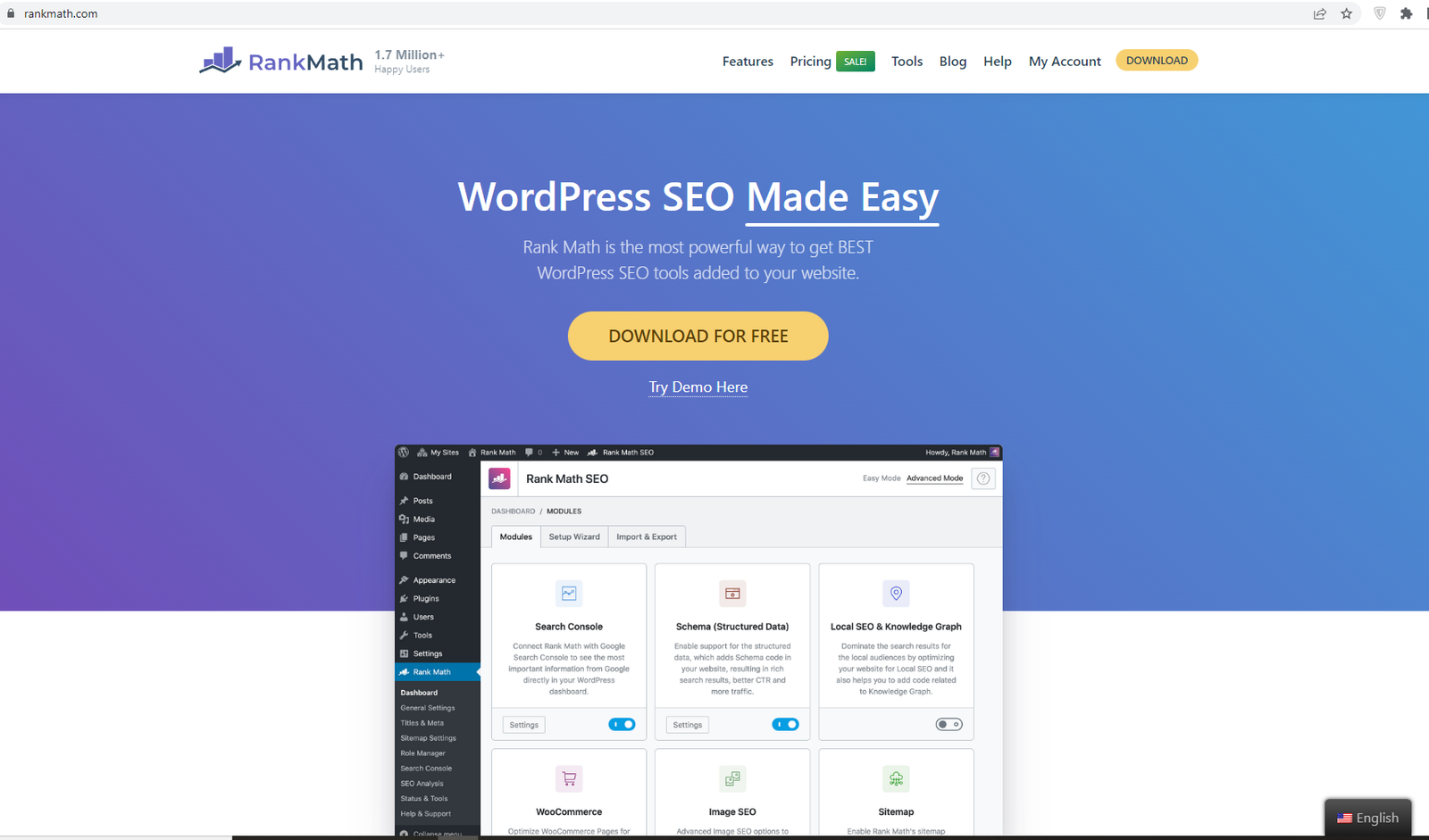 A Rank math SEO plugin is gaining popularity due to its features and functionality compared to other plugins. Rank math is one's WordPress SEO plugin that used artificial intelligence. Sometimes it is really hard to rank the website post compared to the content creation. In this view, rank math helps you to solve all your SEO problems at a single platform without any worry. A single plugin empowers you to act like an SEO team with just a few automated clicks. 
Features
Helps in creating optimized content with the help of Artificial intelligence.

Gives multiple suggestions to improve SEO.

Give the option to choose the right and Optimized keyword. 

Multiple users can be added to handle an account.

Image optimized in the shape of alt text, size, and speed. 
Pros
Easy to install

Use unlimited focus keywords in a single post

Track your keywords in google ranking

Easily integrate with Google analytics and console

Helps in quick indexing of post

Detail audit broken links and manage 404 errors.
Cons
A predefined title and description are not mentioned.

Only 15 free AI content credits are allowed in the personal plan.
All-in-one
SEO
(Free/Paid version $49.60)
3 million active installations make this WordPress SEO plugin one of the best SEO Plugins on the WordPress directory. All in one SEO team developed a beast that has the capabilities to improve the SEO ranking in Google as well as other search engines. It also comes with a comprehensive tool kit that has the features of advanced SEO as well as local SEO for woo commerce stores and bloggers.
The team claims that you don't need to hire developers or SEO experts to do an SEO job. Just you have to install the All in one SEO pack and the rest of the work is done by this WordPress SEO plugin.
Features
Installation wizard guide for easy setup.

Create smart Video and XML sitemap.

Allow users to integrate with the social media

Detail audit of the website for critical errors and omissions.

Robot files can be easily generated and edited.
Pros
Excellent and prompt customer support

Local SEO for local businesses and brands with Google map facility is given.

Easily and manageable redirects for 404 errors.

Snippets are very easy to generate with this plugin.
Cons
In free versions, you can explore only limited features.

Bulk Meta tags and description is not provided.
(Free/Paid version $99)
More than 27k reviews from diversified site owners prove the reliability of Yoast SEO. Yoast SEO plugin is one of the most powerful, engaging, and favorite WordPress SEO plugins among tech people. It has more than 5 million active installations and is regularly updated. The reason for its popularity is that it is very easy to understand and operate.
Features
Yoast SEO can take care of canonical URLs automatically.

Advanced XML site map generation to understand website structure.

Pre-defined Title and description length.

Lightweight and helps in faster loading of the website.

Creation of Robot.txt files to encourage the crawling of search engines.

Give the option to enter meta tags for every individual post.
Pros
The free version is best for beginners to explore basic SEO modules.

Point out the dead links in your site.

Get live previews of your SEO results

Totally automated and single-click operate
Cons
No tracking of keywords in ranking.

bulk customization is not available.
(Free/Paid version $49)
SEO press is a rising star in WordPress SEO plugins with more than active 200k active installations. This plugin is available in more than 24 languages. Its installation is very easy and quick setup with the help of the installation wizard. SEO press helps the website to improve its rank in the SERP results. In this regard, SEO press is supported by a number of page builders like elementor, etc. 
Features
Use any theme editor or builder to change metadata.

Easily import data from any other SEO plugin to this plugin (Migration).

SEO for local-based businesses.

Track keyword positions in Google ranking.

Separate Dashboard for analytics
Pros
WordPress SEO plugins (

SEO press) for a content writer with free content analysis.
The Block editor option is given in the pro version.

Turn on the breadcrumb option to check further details about the post.

Bad and broken links check to avoid errors and omissions.

Easy to set up and operate with a simple design.

Easily integrated with third-party software.
Cons
The minimum price for their plan starts from 49 dollars per year.

Sometimes it gives PHP errors.
(Free version)
Google search console is officially a plugin of Google that is integrated with WordPress without any hassle to keep eye on the analytics of your website without leaving the WordPress dashboard. It is available on the WordPress SEO plugins directory with the name of the site kit by Google. This plugin is easily installable without any API or coding. 
Features
Gives all information about your website (impressions, clicks, visiting duration, bounce rate).

Guide users on how the website is displayed in search results for the target audience.

Integrate AdSense to check how much earnings are made with earning model.

Check page speed and also give suggestions to improve page insights.

Track record of your keyword selections.

Track the history of your website.
Pros
Simple and easy to set up (no need for coding).

Give detailed reports about the website to fix errors and flaws.

Separate dashboard to give comprehensive information to users.

Helps in Modifying the SEO strategies with the help of a complete analysis of the website.
Cons
It only gives the data from Google, not the other search engines. 
(Free/Paid version $99)
Ahrefs is the top-rated SEO tool in the SEO Ranking. They introduce Ahref SEO in the WordPress SEO plugins database. This plugin reveals information to the website owner that how each post on the website is performing against the targeted keywords and also give suggestion to improve the keyword selection. Many SEO plugins give this feature in the paid version but Ahref SEO WP gives it free for their users to keep eye on the performance of their blog posts. Furthermore, this plugin also helps users to investigate the drawbacks of their posts that fail to achieve the best SEO practice. 
Features
Give a Comprehensive report on content analysis

Recommend a particular score after the analysis of the post.

Blend with any other plugin without any hardness.
Pros
Ahref SEO WP is ideal for people who want to avail the facility of page audit. 

Its coding is fast and does not affect the theme.

Easy to configure.
Cons
Ahref SEO WP is not a full-package tool that gives other features like meta description, sitemap, etc.  
(Free version)
WPMU dev team develops WordPress SEO plugins called Broken links checker. Broken links on any website slow the process of SEO which affect the flow of organic traffic. For example, any user who clicks on the link and does not get anything on it except the 404 error is not a good impression on the user.
Features
Continuous Keep an eye on the internal and external links related to the website.

Detect the broken link which does have not any information.

Notified you through prompt notification or email about the broken link.

Discourage search engines to follow a broken link.
Pros
Bulk edit of URL in the entire website

Encourage to change broken links or assist to make redirects

Remove links without harming anchor text.
Cons 
Sometimes broken link count more than one time.
Also Read: Top 10 WordPress cache plugins for 2023
(Free/Paid version $45)
Hubspot is one stop SEO solution for multiple websites and businesses. This integrates with any WordPress SEO plugin. It acts like a hero and assists the user at every stage of SEO operation. Furthermore, It divides into 3 portions marketing hub, sales hub, and last but not least service hub. 
Features
Marketing tools that enhance the power of marketing to grab a chunk of traffic towards the website.

Sales tools manage all the sales reports, stocks, and profits with a single click.

The service hub connects the customer and owner to resolve the issue through an online chat or ticketing system.
Pros
Send unlimited cold emails for marketing purposes.

Proper CRM is integrated into every individual marketing, sales, and services hub.

Generate reports with a single click.

Generate unlimited leads.

Team communication is very easy.

Easily integrate with other software
Cons
Its CMS is not designed for completing all the SEO steps.
(Free/Paid version $67)
When a user searches any keyword in Google and gets the result in the shape of a beautiful picture with a short summary or description and website name is due to the Schema. Schema is a renowned WordPress SEO plugin that keeps moving upward. 
You can get the schema in search results if you have any event, review, product, article, or recipe-based website. It helps you a lot to get an abundance of traffic to your website. That's why Schema is very important for any kind of website.
Features
Support reviews, products, events, video games, etc.

Support rich snippets

Show results in a search engine in a beautiful way (like a picture, star rating, and reviews).
Pros
Ideal review-based or product price comparison-based websites.

Helps in ranking higher in SERP
Cons
It does not support the custom layout of this plugin.
(Free/Paid version $07)
The website without images is boring and dull. The users do not want to visit the website again which has no images or videos. In this view, the optimized images pay great intention to the SEO process. Without optimized images, it's not possible to achieve a better score in the SEO process. Ewww image optimizer is one of the best image optimizers in the list of WordPress SEO plugins.
Features
Optimized images

Small-size of images

High quality

Bulk optimization of images
Pros
Occupied less space.

Not lose a quality of an image.

Fast loading of images
Cons
For the premium features of this plugin, you have to buy it. 
Final Thoughts
There are hundreds of WordPress SEO plugins but here we discuss the best-ever plugins for the SEO of a website. We categorize them according to functionalities, features, and price. All the WordPress SEO plugins in the above list are up to date. 
If you are a newbie and are experimenting with your SEO skills then you have to try the Yoast free version from the WordPress SEO plugins for your website to draw out the results. Furthermore, if you are professional and dig deep into the online and offline SEO process, Rank math is the best and rising star to try out in the world of SEO.