Social media is becoming the most popular and prevailing platform among people. They like to spend hours of their daily life reading and watching social media. Meanwhile, the blogger also understands the potential of social sharing on multiple social media platforms. In this regard. they use WordPress social sharing plugins to accomplish this task.
Millions of people are connected with each other on numerous social media platforms like Facebook, Instagram, Twitter, telegraph, Pinterest, and Instagram. In recent years information, news, and videos are more speedy and communicable rather than news channels. It's called variety. Meanwhile, it shows that any information on the social media platform has a great chance to spread rather than any other channel. Furthermore, it also becomes a great source of driving traffic in the long run. People like to read and share articles on different social media platforms with their friends and social circle which encourages them to read. 
Blogger does not want to miss a big chunk of traffic from social media. That's why they use WordPress social sharing plugins to deliver their post to the users on social media and update them about your blog.
WordPress social sharing plugins play a vital role in bringing traffic from social media. The website owners use the tacts of social sharing of their posts. Meanwhile, social sharing help website owner updates their followers about a new post on the blog. 
There are multiple WordPress social sharing plugins available in the online market that is used by blogger according to their needs. In this post, we discuss the best WordPress social sharing plugins for you that are unquestionable. 
Here are the Top 10 WordPress social sharing plugins
(Free/Paid version $75)
Sharing blog posts on social media platforms is tough to grind. A website owner needs to navigate individually on every social media platform, then after longing owner needs to share blog content which is not professional practice. Revive social in WordPress social sharing plugins repository assist a lot of website owners to reduce their hard work. A blogger just needs to configure social plugins the first time with the blog and see the magic after living the post on the blog. That post automatically shares on his relevant social accounts that are configured. Revive Social is loaded with the following features.
Features
Ability to share an old post of the blogs.

Old posts are schedulable.

Fully managed control over the sharing of posts.

Customizable titles, tags, and description

Live to track clicks for the shared content

Save a lot of time.
Pros
All the content from the website is imported into the plugin dashboard which is scheduled for sharing. 

You can change or alter the title or description of the post (if needed).
Cons
For scheduling posts, you have to upgrade the version.

A/B test is not available.
(Free/Paid version $49)
Smash ballon is one of the leading WordPress social sharing plugins. Its free version displays the Facebook, Twitter, and Instagram post feeds on your website. It helps users to also keep updated from blogger social profiles through this plugin without leaving the website. These plugins work in form of widgets and display the proper recent news feeds in form of text and pictures in a beautiful way. These feeds are totally customizable according to website structure and responsive on a mobile device. It is loaded with multiple features that are described below.
Features
Assist in increasing social engagement with followers.

All the comments and reviews about posts are embedded on the website.

Fully customizable without the intervention of code

Keep updated regularly

Random selection of content that is matched with website style.

Prepaid layouts are available in the library.
Pros
Feeds in form of pictures look more professional and clickable.

You can embed comments on the Facebook posts as testimonials on your website.
Cons
In the free version, the photo layouts are not available.

Overall too expensive for a newbie.
(Free/Paid version $29)
In WordPress social sharing plugins, social warfare is a lightweight social sharing plugin that cannot affect the speed of the website. The free version gives the ability to share website content on more than 5 social platform which includes Facebook, Twitter, Linkedin, Pinterest, Mix, and Google+. It has 40 thousand plus active installation. Furthermore, it gives beautiful icons of social sharing in form of buttons. These buttons are fully customizable and placed anywhere in the post, especially at the end or at the beginning of the post according to requirement. Warfare comes with built-in features.
Features
Lightweight and fast

Comes with beautiful and attractive icons

Comes with customizable sharing buttons

Tracking record of sharing of content

Give the ability to use a shortcode to display social sharing buttons anywhere on the page.

The Pro version added more than 9 social platforms for sharing content.
Pros
Live record to check how much your content is shared on the social platform.

Sharing includes the attribution of the author.
Cons
A/B test facility is not available.

Not regularly updated.
(Free/Paid version $29)
The sharing blog post is not handy nowadays for users, they just click on the single button that is present at the end of the post and see the magic. The blog posts are also updated regularly on the website's social platforms. The user just clicks on the social icon and checks the posts on the social site. This happens due to simple social icons that have more than 2 hundred thousand active installations in the list of WordPress social sharing plugins. It's very simple and easy to use. This plugin is loaded with simple but authentic features that are described below.
Features
Simple and sleek design

Fully Customizable

Personalized icons addition.

Alignment changes available

Different Size and colors available
Pros
You can align the size and space between icons according to theme requirements.

Beautiful and eye-catchy designs convince users to click on them.
Cons
Not too many variations are available.

Not too many functionalities 
(Free/Paid version $11.99)
100 k active installations with 4.7 ratings make this WordPress social sharing plugin popular among website owner who wants to share their content on social media. Sassy social share supports more than 100 social platforms for the sharing of content. It has a straightforward design and is easy to operate without any coding. this plugin included bright and eye catchy color icons that grab the attention of users to make them click on them. Sassy is equipped with the following feature.
Features
Supported more than 100 social media platforms.

Compatible with classic as well as Gutenberg editor

Tracks Share counts for Twitter, Reddit, and Pinterest.

Customize icons according to the requirement

Registration is not mandatory

Responsive for Mobile and tablet devices.

Fast loading time

Optimized code on the backend side.
Pros
You can share your content on more than 100 social media platforms.

It's fast and lightweight and does not affect the speed of the website.
Cons
Not compatible with the local server.

A/B test facility is not available.
(Free/Paid version $19)
The social media button by Mashshare claimed to be a social sharing ecosystem with a share count of Twitter and Facebook. This WordPress social sharing plugin is not loaded with external scripting material. It has a proper nice and clean dashboard and its code is loaded with the website. On this plugin, the user does not need to create an account. Furthermore, it also does not store cookies and data for personal usage. This plugin is totally free but you can add more functionalities with the help of its paid addons. The main features are enlisted below.
Feature
Icons are in vector format and give high-quality resolution.

Code loaded from the website except for the third party.

Ultra-fast and lightweight

Pro add ones are available.

A shortcode facility is also builtin.

Easily Integrate with third-party SEO plugins
Pros
Free versions are enough to do the work for newbie bloggers.

Ultra-fast with the loading of source code from the WordPress website.
Cons
Add ones are not available in a single pack,

Sometimes stuck with PHP version 8

Also Read: Top 10 WordPress Advertising plugins for 2023
(Free/Paid version $49)
The social icons widget by WPZoom comes at the top of the list of WordPress social sharing plugins. Sharing icons helps to link with different social profiles that are integrated into the website. This plugin comes with different built-in presets of icons that website owners use on their websites according to their requirements. Furthermore, social icon widgets give freedom to website owners to use or upload their own icons if they are not satisfied. These sharing icons supported up to 100 social sites to share valuable content. The following feature makes it prominent from others.
Feature
Comes with builtin icon presets

Facility to upload own SVG icons

Supported every type of block editor

Global color picker and hover-over options are available.

Integration with font awesome

Fully customizable in form shape, size, color, and background

Does not affect website page speed.

A shortcode option is available
Pros
With drag and drop, you can reorder your icons.

Choose icons from different styles like round, square, or png.
Cons
The upload option of SVG icons is available only in the pro version.

A/B test is not available.
(Free/Paid version $89)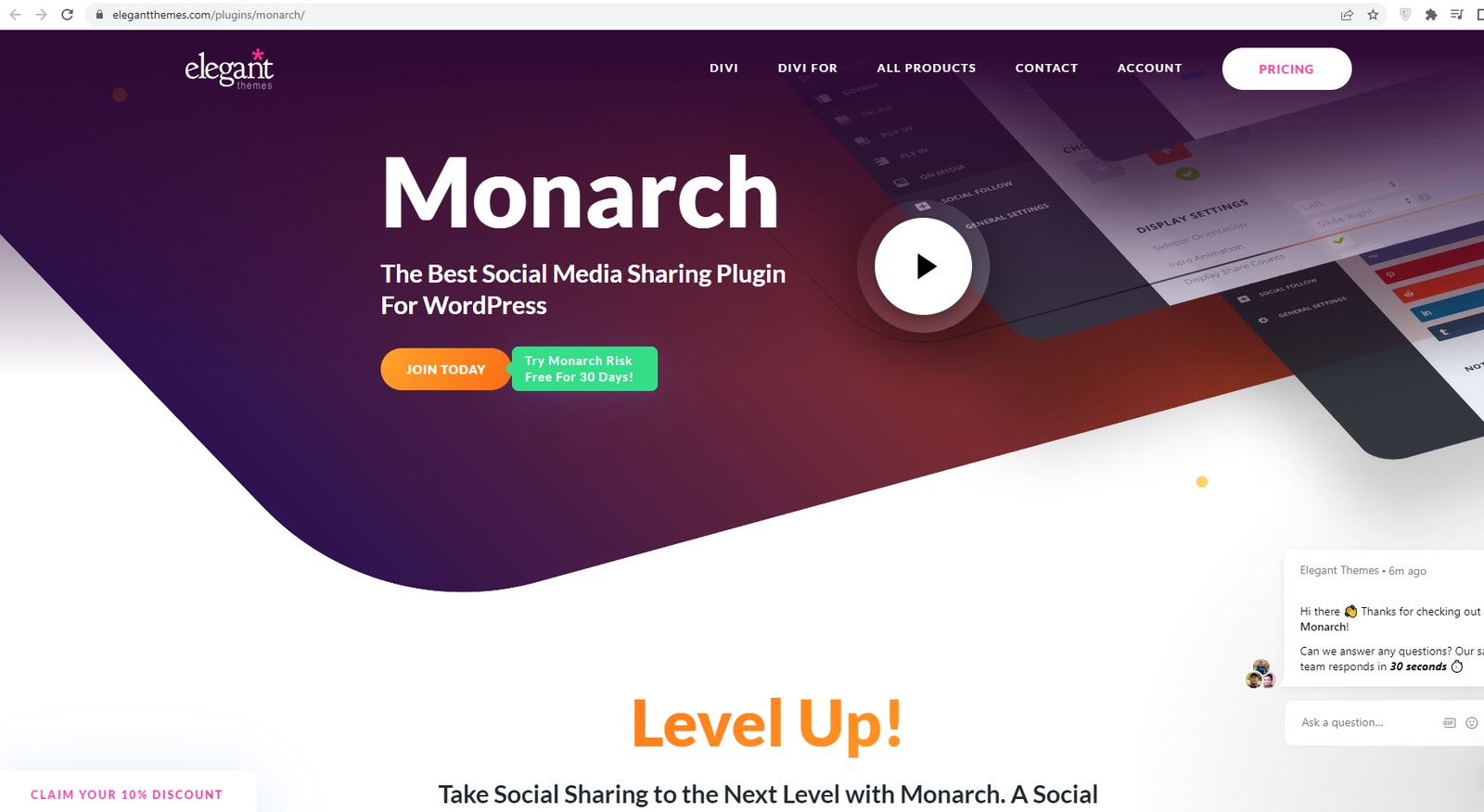 Monarch is the best WordPress social sharing plugin that comes with an abundance of cool features. Meanwhile, Monarch claims to target social sharing to the next level. Its better and more attractive design helps in clicks for boosting of sharing of valuable content. This plugin has the ability to display on 5 different locations of the page or post. Its ultrafast lightning features make it cool and do not affect the page insights of a website. It's so super easy to use, just drag and drop to play with the design. It comes with tons of cool features that are described below.
Features
Comes in different sizes and styles

Sharing buttons are available for 5 locations on the page.

Sticky and floating sidebar options are welcomed.

Add sharing buttons on images and videos

Fully automated Popup options are available.

Available in multiple transitions.

Clean 
Pros
Multiple locations for adding buttons give more chances of clicks

Buton on video gives premium looks 
Cons
 Too expensive for a newbie blogger

A/B Test is not available.
(Free/Paid version $27)
WordPress social sharing plugins add one more plugin to their list of social share buttons developed by WPBrigade. These social buttons on the website divert the traffic toward the social platforms on their respective account to increase fan followers. Their well-structured design makes it a flexible plugin for everyone. Share buttons come with animation and transition. This plugin is available in multiple languages. It comes with the following features.
Features
Easy to install

Locate at 6 different positions on the page

Responsive design

Hide in mobile devices

Comes with animated transitions.
Pros
On mobile devices, it hides automatically to display the full view of the website.

Beautiful transition on hover.
Cons
Limited social platforms are integrated

No shortcode facility is available.
(Free/Paid version $29)
Social snap brings leading social sharing plugins for WordPress social sharing plugins. It helps to grow the value-added traffic for the blog. This plugin uses the power of social media and increases the engagement of the use of the website. The social snap comes with the following features.
Feature
Give the option to print content for the user

Sharing of content via email.

Shortcode supported
Pros
Simple and sleek design

Sidebar stick with a post to share the content
Cons
Support is unsatisfactory

Non-responsive design for mobile
In the bottom line, WordPress social sharing plugins play a vital role in boosting the traffic of a website through fan followers. WordPress social sharing plugins convert social followers into potential users of a blog. The plugins discussed above are highly qualified and popular for the blogger person. According to the feature, the Monarch is the best sharing plugin in the list. This plugin is the first choice of every website owner.